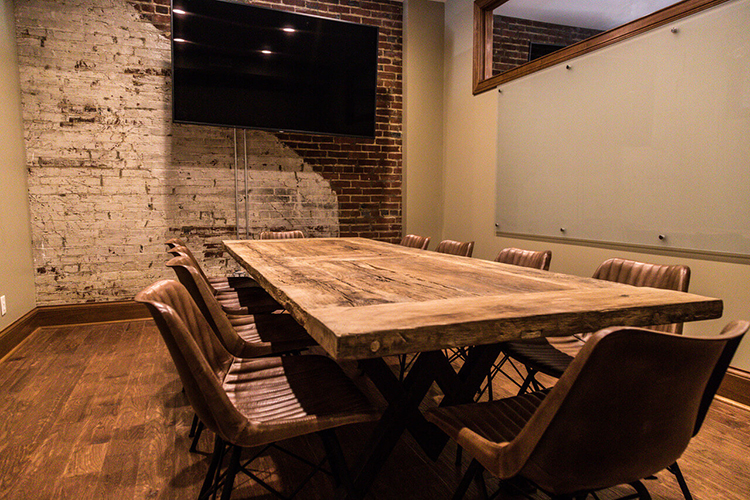 FOR IMMEDIATE RELEASE – January 4, 2019
Coulter Reporting LLC, announces a new location in New Albany, IN, providing court reporters, legal video services, conference rooms, and other court reporting and litigation support services.
The New Albany, IN, location includes multiple professional conference rooms with amenities for attorneys to use for depositions, mediations, and other meetings. It is conveniently located within a half mile off of I-64 in New Albany, right across the Ohio River from Louisville, KY.
Rick Coulter, owner of Coulter Reporting LLC, stated, "Delivering a high level of service to our clients includes providing deposition hosting locations convenient to our clients' needs. We've been working with attorneys in New Albany and Southern Indiana for years. This new location will make it more convenient for our local clients and those coming in from out of town to host depositions and other meetings in one of our professional conference rooms New Albany, as opposed to having to find a conference room on their own or having to go across the Ohio River and into Louisville."
Founded over 20 years ago, Coulter Reporting LLC, has become one of the largest court reporting firms serving the state of Kentucky and Southern Indiana. During that time, Coulter Reporting has become known for reliability, highly skilled court reporters and videographers, complex litigation, excellence service, and being one of the most technologically advanced court reporting firms in the region.
Positive reviews from Coulter Reporting LLC clients attest to their high level of service.
Thad Keal stated, "Coulter Reporting provides what all lawyers who litigate require: Accuracy, timeliness and professionalism. Whether at the conference room for a deposition or the courtroom for a trial, Coulter Reporting is there early, set up and ready to go. Their whole team provides seamless service, every time."
Edward Stopher stated, "Coulter Reporting is the best. I've never had them say to me that something is far too difficult for them to do. They did a complex job for me that was three months in duration, four-and-a-half days per week. I had daily transcripts from them by 6:30 am every morning."
Michael Hance stated, "There's no reason to go to another court reporting firm, and I won't. It's good to see Coulter Reporting in the courtroom. It makes my life and my client's case much better. Their last-minute responsiveness is great. I can count on them, and I know the job's going to get done. I was in the middle of a trial and needed something transcribed at the last minute, and they took care of it and got it to me. Coulter's technological capabilities are very beneficial to how I get my work done."
Kevin Weis stated, "Coulter Reporting operates at the highest standards of the profession. The quality of the transcripts and other services provided is top notch. Further, when expedited services are needed, they have always been able to accommodate me in nearly two decades of working with them."
Eric Kiser stated, "Coulter Reporting has always provided outstanding service and customer support for all of our firm's deposition and trial prep needs. I always receive accurate deposition transcripts quickly and efficiently. Highly recommend Coulter Reporting to anyone needing court reporter services."
Margaret Ivie stated, "I have always been impressed with the services offered by Coulter Reporting. I can always count on them to be there for me, even on very short notice."
Coulter Reporting LLC, court reporters have been certified and are experienced in covering all types of legal proceedings, including medical malpractice, asbestos litigation, products liability litigation, and more. Their court reporters have been providing court reporting and litigation support services throughout Kentucky, Indiana, and across the nation.
The new location information is:
Coulter Reporting LLC
110 E Market Street
New Albany, IN 47150
(812) 542-5160
http://www.coulterreporting.com/new-albany/
To schedule a deposition or find out more information about Coulter Reporting LLC, visit http://www.coulterreporting.com/ or call (812) 542-5160.